"MEGAPACK" is the BIGGEST HTML Marketing Landing Pages Pack ever made on Themeforest, includes +24 TOTALLY DIFFERENT Landing Pages Layouts with PixFort Online Builder Access that allows you to create powerful pages with unlimited possibilities, with more than +250 Elements and +12 Popup Layouts you can use to make an awesome landing page in minutes with a contact form or subscription form integrated with Custom email, MailChimp, GetResponse, CampaignMonitor, AWeber, ActiveCampaign, MailerLite, FreshMail and Sendloop integrations directly from PixBuilder, that will be definitely A New Revolution in Marketing Industry .
Plus we have included 15 High quality exclusive PSD Mock-ups.
The new PixFort Page Builder represents the next generation of HTML website creation tools. It introduces a revolutionary new way to build your website without writing a single line of code, thanks to the intuitive grid system based page builder which provides the best experience to create premium class responsive websites.
PixFort Builder access comes packed with MEGAPACK, the biggest template we have ever made, in addition to a powerful integration system with a set of the most popular email services that you already use and love. With PixFort builder we set a new standard for creating and publishing websites and applications.
Extensive Documentation and Help Center included.

This is an HTML5 Landing Page Template, NOT an Email Template or WordPress Theme.
How you can use MEGAPACK Marketing Landing Pages:
You can use MEGAPACK for any purpose starting from business, marketing, corporate, app, creative, minimal, flat, one page, professional, Education, eCourse, Sign-up to download course outline/prospectus or an application for enrolment, Real Estate, New condo development sign-up, Property listing with real estate agent contact form, Travel , Resort package special offer (one listing), Seasonal getaways (multiple destinations), Luxury cruise, Medical/Treatment, Procedure info & sign-up (e.g. LASIK, Invisalign, cosmetic surgery), Report/White Paper/ebook download, Law, Group lawsuit call-to-action, Request for quote, Startup, Pre-launch/coming soon email sign-up, App release specs & download, SaaS Trial Sign-up, Software pricing info & sign-up, Non-Profit, Donations to a cause or Sign a petition, B2B, app landing page, builder, catering, course, fitness, landing, launch, marketing, multipurpose, one page, page, responsive landing page, startup, tour, Webinar sign-up, ebook download, Lead gen/request quote, Agency, Service offering & request for quote, Insurance, Insurance plans & lead generating form, Beauty, University Landing page, Shop with deals page, Marketing Subscription landing page with mailchimp, Hotel, Gym, Party, Event, Marketing Representative/product information & request for consultation form, Multi-Purpose, General template fit for multi-purpose usage….
+UNLIMITED Possibilities With The Advanced PixBuilder.
Themeforest Authors! This is for you!
Are you a themeforest author? Are you interested in building awesome templates with PixFort Builder? Subscribe today to be notified when the Developer Platform goes live!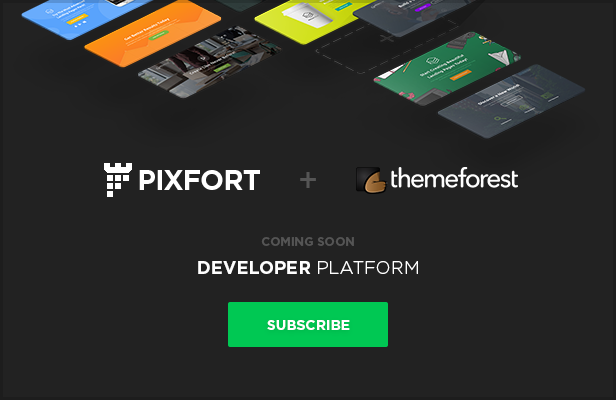 Changelog:
Version 1.0.1 – August 28, 2017

- Added Automatic Popups
- PixFort platform improvments
- Updated sccreenshots

Version 1.0 – August 25, 2017

* Initial release